Album Review : O'Kenneth – Until It's All Said And Done. Being the last artist on your label's roster to finish the year brings with it a certain amount of responsibility and anxiety. You have the opportunity to stake your claim by creating something epic that will cement your own status as well as the label you represent. After all, you can take notes from previous releases by your colleagues – what worked and what didn't – and incorporate them into your own project. That was what one hoped for Life Living Record's O'Kenneth.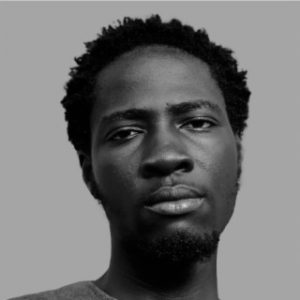 For the past two years, O'Kenneth has been building his reputation as a versatile rapper. He can deliver a memorable verse, as he did on Yaw Tog's game-changing "Sore." (It was his verse that transformed the song into what it is today.) Because of their quality and effortless delivery, his hooks frequently spark a lot of discussion among rap fans. Though a part of the asakaa movement as a whole, O'Kenneth has some distinguishing characteristics that set him apart from the pack.
Following a string of features on JAY BAHD, Reggie, City Boy, and Kwaku DMC records, as well as his 2019 co-authored album "Straight Outta Kumerica" with Reggie, and his debut single "Agyeiwaa," the demand for an O'Kenneth solo album grew.
During a year in which all of the rappers on Life Living Records released albums, EPs, and singles, O'Kenneth was plagued by the question "WHEN?" The answer was "Until It's All Said and Done," which was released over the weekend. The asaaka or drill hip hop sounding tape, which consists of 9 songs, features almost all of the label's and Life Living Records' legitimate members and affiliates. Kwaku DMC is the only labelmate whose name isn't on the list.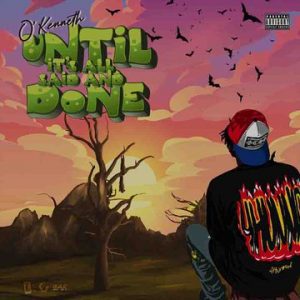 His dry, gruff voice cut through the beats with a sense of aggressiveness and playfulness, despite rapping mostly in English, which is anathema to the asaaka style. However, on an album where O'Kenneth was expected to assert his claim, he was reduced to the role of a supporting artist.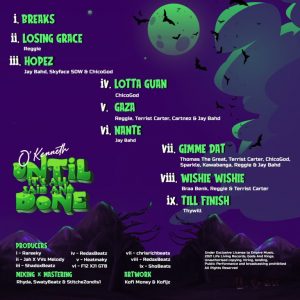 YGA O'Kenneth opened the album with "Breaks," a guitar-driven, snare-and-drum-tucked, boastful melodic rap record. "I be laughing in their face/caterpillar later blown to be in the air space/how that's I know I'd be great," raps O'Kenneth. "Losing Grace" has a minimalistic and introspective sound. Over a sampled record with a leisurely spaced-out beat, YGA airs out his traumas and coping mechanisms.
"I've been losing grace/I've been losing weight," he begins his verse, before adding, "lately i've been smoking lots for the pains sometimes it get me carried away."
He mentioned that his mother is concerned about his mental health because she is the "only one" who knows how he copes with pain. "Losing Grace" is a candid look at his life, dealing with trauma, and the effects on his mental health. Trauma and mental health issues are rarely discussed by rappers in this country, so hearing O'Kenneth be open about it on "Losing Grace" is commendable.
By the third song, the identity of O'Kenneth has been partially revealed. After telling us about his qualities on "Breaks" and his personal struggles on "Losing Grace," the story arc concludes on the hopeful "Hopez," where he remains on hook duties while his fellow countrymen take turns speaking about their ambitions.
The light beam shone brightly on JAY BAHD, Skyface SDW, and Reggie instead of O'Kenneth on songs like "Nante," "Gimme Dat," and "Gaza." JAY BAHD, for example, came prepared to dominate, to stake his claim as the label's best rapper. He was composed, assertive, and determined. Skyface SDW demonstrated his girth as the next hype. On "Gaza," we got a taste of what O'Kenneth had to offer, with his aggressive flow delivered in the style of a UK drill artist.
"Until All Is Said and Done" ends on the same note as the first song, "Breaks." The soulful tone of "Till I Finish," featuring ThyWill, and its accompanying guitar inflections of "Till I Finish," are ruined by YGA's voice being overly reverberated, making it difficult to hear his words.
O'Kenneth's debut album appears to be a rushed project in our opinion. It appears that he released an album to check a box rather than compete for the top prize—perhaps to promote new artists signed to Life Living Records. It was evident in his delivery and demeanor. Apart from "Losing Grace," in which he delves deeply into his personal life, he did not leave a lasting impression.
Despite these criticisms, "Until It's All Said And Done," like almost all Asaaka albums, contains some songs that are worth hearing again and again. Songs like "Nante," "Hopez," and "Gimme Dat" have already sparked some debate among music fans. However, on the whole, the album did not resonate with us as much as we had hoped. We may have had high hopes for O'Kenneth and his debut. Hopefully, his next album will place him among those who must be counted.