News
From Eric's Diary: …and Sophia Akuffo spoke my mind- wicked, disrespectful, totally wrong!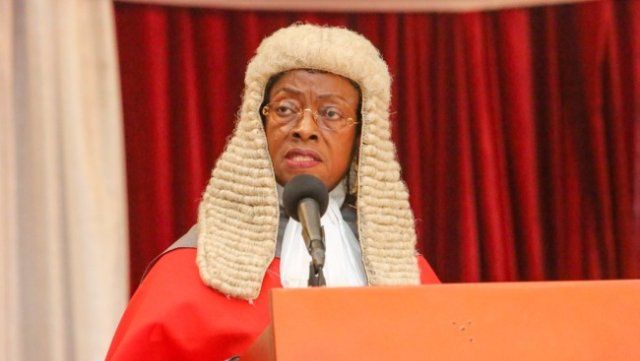 Well, well, well! The brouhaha has died down because good reasoning prevailed.
And Senyo Hosi's vituperations have vanished into thin air, making way for a tranquil airwaves. So has the suddenly incessant broadcast of the sordid predicaments of some octogenarian pensioners on radio and TV. Very sad.
The question then is, should we have gone that far? To the extent of wanting to deny pensioners proceeds from their bonds? Hm!
Now I acknowledge that advocacy works better when you have the right people leading it. The immediate past Chief Justice, Sophia Akuffo has earned my respect doubly, by her decision to join pensioners at the Ministry of Finance to protest their inclusion in the Domestic Debt Exchange Programme (DDEP).
Clearly, her singular effort was the game changer. Followed by Speaker Alban Bagbin's now famous, "leave our pensioners alone" directive, after the Finance Minister had been, as we say in local parlance, 'dressed' by members of the Minority Caucus in Parliament- "You deny poor pensioners their money and quote the Bible?- one of them, Isaac Adongo asked. Unprecedented!
The NPP Member of Parliament (MP) for Obuasi West Constituency, Kwaku Agyemang Kwarteng did not help matters… "Mr Speaker, we must simply stop distributing wealth we have not created, we must stop spending money that we do not have.
"The problem we have on our hands today is not just a debt treatment matter, there is a need to deal with the fundamental weakness that has characterised the management of the economy for decades. We are reaping what we have sowed, as leaders, as government and as a people," he shouted.
My understanding of the DDEP
The word 'nonsense' simply means 'does not make sense'. In other cultures such as America and Europe, it is common to hear children (Kids) tell their parents that, 'mummy, daddy, this is nonsense'.
Not in Ghana though. Because the one you say 'nonsense' to, will consider it as an insult. As a culturally sensitive writer, I have therefore decided to use a synonym for nonsense that is very unfamiliar, thus less sensitive- Bunkum- for how the DDEP was handled.
I intentionally steered clear of the DDEP because I had a hard time understanding the whole show. I had to listen to the various discussions on the subject on the Multimedia Group's numerous platforms to appreciate, to some extent, what it is all about.
From what I managed to glean, it is a case of government has mismanaged its finances and has decided that although it owes me and we have an agreed terms for repayment, it can suo moto, decide to change the terms without consulting me. After I complained that I don't want to heed to this new terms of repaying my loan, it tells me "you exempt yourself at your own risk." I can't think far.
But in Ghana, anything can happen and we will talk about it for a while and leave it, so our leaders take us for granted. Remember former President Mahama saying "Ghanaians have short memory"?
Well, I was not alone in my difficulty in understanding the DDEP. Former Chief Justice, Mrs. Sophia Akuffo is just like me. When asked by James Avedzi of JoyNews about her understanding of the issue, she said, "young man, if I knew economics and finance, I would have gone to the University of Ghana Business School, but I went to Law School, because I know how to read, remember, talk and analyse.
But you are asking me a question, if I answer in a certain way, some economist will tell me I know nothing. Yeah, I know nothing. All I know is that if there is the need to restructure debt, the first thing you need to do, I believe is to look within what is fully under your control, and see where you can cut this and reprioritse and be honest with the people of Ghana," she said.
While I was trying to wrap my head around the issue, its legality or otherwise crossed my mind, so I raised it during a discussion in the office. My colleague, Isaac Kofi Agyei explained to me that the individual bondholders could sue the government for breach of contract but if they win, it would amount to nothing. Because, government will tell you it has no money to pay now and the court may arrange a repayment terms which will amount to the same thing as the status quo.
This explanation reminded me of a legal term I learnt under Administrative Law, both at GIMPA and UG – brutum fulmen – an ineffectual or useless legal judgment.
However, Mrs.  Sophia Akuffo, rekindled my hope when she said she could sue if government goes ahead to include the pensioners in the Domestic Debt Exchange Programme, "Certainly in what I signed up, there was no clause in there that said since the government has become bankrupt (giggles), it will not pay you. So long as government has properties, I can sue them and I can claim my entitlements.
I'm seeing it purely from a legal point of view, their contractual rights being threatened. Then…I have to join them in solidarity. Their pain is my pain," the former CJ explained.
Here is my favourite quote, "I find it wicked, I find it disrespectful, I find it unlawful, I find it totally wrong, period! Because you don't solve your problems by sacrificing your aged. That is the last thing you should do.
You don't just jump at the low hanging fruit… it's rude, it's wicked, it's not right, it lacks good faith, it lacks humanity" she stressed.
Insult as the weapon of a pin-brain
There is a saying that 'hell hath no fury like a woman scorned'. It is usually used to describe a woman who has been jilted by her lover or better half.
However, I used the expression here because it is clear that Aunty Sophie felt ditched contractually, by Mr. Ofori-Atta the Finance Minister, hence her no holds barred outpouring of sentiments.
"Why are we in this mess? Nobody has fully explained to us. Yes we took loans. What was it used for? And where is the accountability? Exactly what was it used for? You are not telling us about how you are going to be able to make things better, but just that 'help me and I help you'. No.! You help yourself first. Let me see you doing something serious, because we have seen these sort of things too many times," she stated.
My journalistic instincts could not help but smell a rat with regard to the final part of the statement-…" we have seen these sort of things too many times." What the enraged former Chief Justice had in mind can only be imagined.
Then this one- "I am over 70 years now, I am no longer government employee, my mouth has been ungagged and I am talking and I am saying that we have failed and it is important that the elderly should be respected," she bemoaned.
Expectedly, this public bashing of his cousin did not go down well with the man who has become known in rumour circles as the Prime Minister of Ghana, Mr. Gabby Asare Otchere Darko. So he sought to tell Aunty Sophie off.
"For a former CJ to take up a noble cause such as she did, but at such late hour when all was done and for all that publicity, she owed it to herself and her social standing to have understood the issues far better than what she exhibited last Friday. She is bigger than that.
Why picket over something you don't like when you have the right not to sign up? Sorry, but I struggle to get her emotional outburst over-exemption! I hope she won't volunteer to picket tomorrow and on the same issues when the time to sign up has expired," Mr Otchere-Darko tweeted.
Angered as she had become, Aunty Sophie replied. Briefly though.
"Sticks and stones may break my bones, but blah blah will not hurt me. No! And insult is the weapon of the pin-brained. I'm not going to trade words with pin-brains, I'm sorry", she told journalists at the forecourt of the Ministry of Finance.
After reading this, I realised that Aunty Sophie suffered the same hesitation I had in using the word, 'nonsense'. That's because the phrase pin-brain simply means stupid.
Since then, Gabby has gone shush!
It's time to go
From the comments I have heard and read, Aunty Sophie spoke many minds. Mine included.
And her speech will resonate in the minds of many for a long time to come. Personally I will never forget this one- "I find it wicked, I find it disrespectful, I find it unlawful, I find it totally wrong and "I am over 70 years now, I am no longer government employee, my mouth has been ungagged and I am talking."
Against this background, I am looking forward to what Aunty Sophie would have to say regarding the disbursement of proceeds from the COVID-19 Trust Fund, which she championed the collection effort.
Interestingly, NADAA appointed Aunty Sophie as CJ despite strong opposition and accusations of nepotism, seeing as she bears the same Akuffo name, albeit with a different spelling.
He went on to appoint her as chair of the COVID-19 Trust Fund. This presupposes that they share a certain level of confidence between them. What then would have pushed the former CJ to piss-in from without instead of a one- on- one session with NADAA?
Does this statement give any clue? …"because we have seen these sort of things too many times."
Suffice it to say that, it seems to add to the seemingly blemished legacy of NADAA. The first Ghanaian president to be booed in office, the first to supervise a rundown economy to the extent of wanting to take away the pension funds of pensioners in order to restore it.
The first President who had more than half of his party's caucus in Parliament threaten not to do business with him. The first president who had a German Ambassador tell him that 'you cannot ask for help but refuse to cut your budget'. The first president whose previous appointee to the high office of CJ made scathing comments about his policy, publicly.
And a political Marketing Strategist at the University of Ghana Business School, Dr. Kobby Mensah, agrees with this perception. "I think the Honourable Sophia Akuffo's actions in terms of picketing has really had a very big blow to the government," he said in an interview on Joy FM's Top Story on Tuesday, February 14.
In all this, my concern is about the future fate of Gyankuma's children and their children's children. How will they be received, nay treated, in ten years to come when they introduce themselves anywhere as the descendants of NADAA?
I don't know about you, but I will not be surprised if many look at them with disdain. The hardship is just unbearable and there is no indication of a respite soon. Whither Ghana? That's what is on my mind now.
And Gabby Asare Othchere Darko says what? "She is bigger than that?" Because of position? Which is not a possession? Mtcheew!! The 'King's beautiful clothes' on my mind.
Anyway, Aunty Sophie says Gabby is a "disturbance." I agree in toto.
This one too shall pass. 22 months more.
Antio sas- That's goodbye in Greek.
Let God Lead! Follow Him Directly, not through any human.
DISCLAIMER: The Views, Comments, Opinions, Contributions and Statements made by Readers and Contributors on this platform do not necessarily represent the views or policy of Multimedia Group Limited.