Top 10 Ghanaian music groups of all time. Throughout the history of Ghanaian music, a larger part of its making is the contribution of prolific music groups. These groups have played a vital role in the making of the Ghanaian music industry and have entertained almost every music lover with extreme and authentic music.
When the issue of music groups arises, a lot of names come to mind. Who is the best will always remain a factor for debate but we will take off some time to outline the best top 10 Ghanaian music groups of all time.
Our team has done their research well to put out this mind-blowing list based on musical achievements, accolades, and fan base as well as a success across. Remember this list is a collaborative opinion of a group of people and thus can be challenged but with statistical analysis and proof. Enjoy the countdown of the Top 10 Ghanaian Music Groups Of All Time.
10. NAKOREX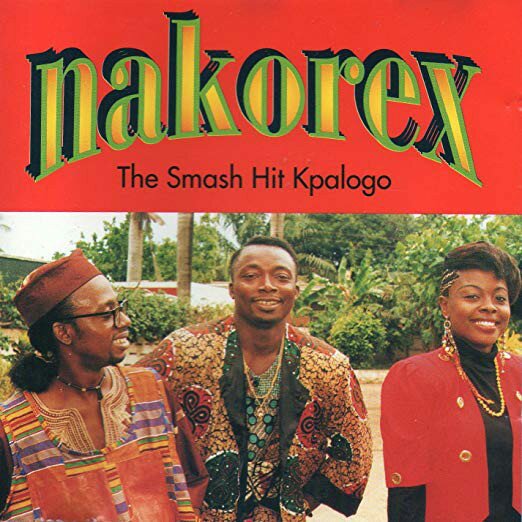 Nakorex was a Ghanaian Highlife supergroup active in the 1990s. The band was formed in 1992 by the musician Nat Brew, Rex Omar, and Akosua Agyapong, and took its name from the first few letters of each member's name. Brew and Agyapong were later married. Their musical style combined high-tech and standard instruments, with an emphasis on live performances.
They belonged to a younger generation of highlife musicians, who utilize indigenous resources to create highlife music, using state-of-art techniques.
The band split up in 2015, following the divorce of Nat Brew (by then going under the name of "Amandzeba") and Agyapong, Nat Brew denied that the split up was a result of the divorce.
According to Amanzeba, the group which also had Rex Omar as a member split because there was a lack of cooperation in certain instances.
"Everybody was beautiful in an individual way. I think it got to a time there was no synergy… Rex came up with 'Abiba', it was huge. And if you are not careful, you get carried away by the current that accompanied your success. I think he got himself so much engrossed in it that there was no time. So when one is ready, the other is not… Not at all. We broke up before the divorce," he said on Joy FM's Rhythmz A-Z.
There have been numerous speculations about the cause of the split of the famous 1990s highlife group. Some had suggested that Rex Omar and Nat Brew 'clashed' over Akosua Agyepong and that fuelled the split.
But in 2015, Rex Omar indicated that the group broke up because there was a collective desire to build solo careers.
"People concocted stories that Nat and I clashed over Akos [Akosua Agyepong] – it is never true. I married at age 24. I had a wife even before NAKOREX came together," he had said. 10th on the Top 10 Ghanaian Music Groups Of All Time
 AKATAKYIE
The duo of Akatakyie is made up of two brothers, Prince Kwabena Budu Asumaning (Kobby Culture) and Ebenezer Kwasi Okyere Asumaning (King Pharoah). They released their 5th album and managed to enjoy massive airplay even after almost a decade since their debut. They came out with their maiden album Odo esisi me in 1999 which won them the Best Hiplife Song award in the maiden edition of the Ghana Music Awards organized in 2000.
Subsequent to their first album they came out with Ghana mbaa, Odo esikyire, Yedi aba and these albums all had remarkable hit tracks on them. All their albums when released in their particular year were nominated for Ghana Music Awards.
Since their appearance in the Ghanaian music industry, they have never jumped from one record label to the other, management and their style of music have also not changed. Taking hiplife back; one can say they have really contributed a lot and some call them the real inventors of hiplife that is the fusion of highlife and hip pop. Their style of music has been the trend many hiplifers have trended on.
They have had hits like Ghana mmaa, Agoo, Odo esikyire, Sinsima, Esi, Meyare, Masan aba, Oman baapa, Odo ye musu anaa, and Sie sie obaa no featuring Okyeame Kwame.
Hiplife duo, Akatakyie, made up of King Pharaoh and Kobby Culture, has revealed that there were away from music because they were broke.
Speaking in an interview with KMJ on Daybreak Hitz on Hitz FM, they noted that they had nobody to aid them after the sudden collapse of their record label, Sole Records.
"Financial crises have kept us away from music. We have been totally broke for the past four to five years and I won't lie about it, things went so bad.
"We were trying to resurrect but people would not allow you to, even those that have the money to support asked so many questions," the duo revealed.
According to them, unlike the situation now, "we were making money then but not to the extent of how musicians are currently making money."
Asked what lead to them losing all their money, King Pharaoh explained that; "Well, I will say we never got much. We were going through a lot of problems even with the record company, Sole Records.
"We needed to change the label but when you complain they never listen, they rather listened to [outsiders]."
According to Kobby Culture, "Sole Records is one of the powerful producers we have ever had in Ghana because [the owner] has all the artistes and musical ideas.
"However, they did not get the right people to manage the company which brought the fall of Akatakyie. We sometimes had to do things all by ourselves…"
The 'Odo Esisi Me' hitmakers revealed that, even though they never signed any agreement with Sole Records, they remained loyal to the label.
They were therefore surprised when the owner decided to take a break from music production and management.
"We had no idea so we had to go by it and later regretted what we did," the duo said.
They added that; "we did not have any producer who [could] aid us in our releasing our music as coming out as an artist is not an easy task. We could not afford to go to the studio, record or do our own video…it was hell." 9th on the Top 10 Ghanaian Music Groups Of All Time
 BUK BAK
Buk Bak was a Ghanaian musical group composed of Prince Bright, Isaac Shoetan, and Ronny Coaches. They rapped in Ga, Twi, and Pidgin, and were the first hiplife group in Ghana to be successful with Ga lyrics.
As of 2006, they were both pursuing individual projects. Bright and Ronny reunited in 2012 to record what turned out to be their final album as a group, Fisherman Anthem. The original group had more members, some of whom have formed groups like 4×4. The group ended in November 2013, after the death of Ronny Coaches
Buk Bak coined from "BOOK BACK" was first formed to see how far Prince Bright also known as Bling Sparkles, Ronnie Coaches, and Isaac Shoetan is known as Papa Shoto could go considering their love for music as a window to vent their feelings and means to entertain their ever-increasing fan base.
The group then didn't know what they were bargaining for in the beginning but it didn't come as a surprise when they were headlining shows from Ghana, USA, UK to many other places. They began freestyling and gained that street credibility every artist needed back then to survive the Ghanaian hiplife industry. In an inter-school rap contest, Ronnie Coaches who were pursuing Auto Mechanics at Accra Technical Training College (ATTC) came in second with his group and Shoetan and Bling Sparkles came in third.
Ronnie had already built a huge fan base in ATTC but Isaac Shoetan and Bling Sparkles spoke to Ronnie about joining Buk Bak and his acceptance made the group begin talking about putting out an album. Isaac Shoetan known as Papa Shoto was an Adisadel College student. They were snapped and signed on to Abib Records, which the group described as "good contract and good money"in an interview. The group then recorded their first studio album "Komi Kἐ Kena", and then followed it up with "Awἐnsἐm" and before topping it up with "Nkomhyἐ" with Abib of Abib Records where the manager of their current affairs Mohammed Khan Addae was Public Relations.
After a few years of working, Isaac Shoetan left the group to pursue his own projects leaving Ronnie Coaches and Bright to record"1662", "SikaKorkor", and then "Gold Coast" with Agicoat Records before Ronnie Coaches and Bright also split to pursue their solo projects in 2006. Bling Sparkles recorded "Light over Darkness" which had hit single "Condom" with Prince Dave Records. He then moved to the United States to pursue other equally important projects. Ronnie Coaches recorded "Screen Saver" an equally successful album before the two announced their comeback in 2012 to release club banger "Kolom".
The duo's songs are being inspired by stuff they dealt with growing up. Both grew up in a compound house where a lot of drama and happenings occurred and they now take those scenes and memories they can remember and put them into their writings and make it sound great for people to dance to. People love Buk Bak for their party songs and they have realized this and would go all the way to entertain the people as they have always done. They mentored 4X4, Castro, Pope Skinny, K-2, Buky Core, and a whole lot of artists who are all now making people dance everywhere their music goes.
Because they believe in sharing their talent to make people happy and that's why they mentored all these artists to have a feel of what it felt like to be on top because Buk Bak believes "when you are at the top alone it will get to a time you will feel lonely so we should help several other people come up there so we can all enjoy life". On November 21, 2013, Ronnie Coaches was pronounced dead at the Korle Bu Teaching Hospital in Accra, Ghana. Coaches had suffered a heart attack. 8th on the Top 10 Ghanaian Music Groups Of All Time
ANTWI NE ANTWI
Antwi Ne Antwi made up of two brothers – David and Michael Kofi Antwi – thrilled music lovers with several hit songs including Sekina, Congo Soldier, and Uncle Ebo.
After five albums, which include, Dwene Wo Ho (2000), Sekina (2002), and Uncle Ebo (2003) to their credit, David, who is now an Evangelist, explained that he gave his life to Christ after he fell sick in 2006.
"It all started in 2006 when I got sick and it took me two years to be healed by a man of God. A prophecy came that it wasn't just a sickness; God was calling me so through the healing I had to give my life to Jesus Christ as my Lord and personal savior and I have been in it since 2008. So I am now an evangelist and I am working as a man of God," he narrated.
He added that his calling to do God's work has affected the fortunes of the group and in spite of that, they tried releasing an album after their split, a mission that has become a daunting one.
"We tried to come out after the healing but it seems God had already picked me out of the group, we have shot about three videos but, all [have not] been successful because God just wants to use me. He doesn't want me to work as Antwi Ne Antwi anymore," David disclosed.
He has been preaching for three years now and admits "the work of God is so difficult, I don't want people to think that if you come into the house of the Lord, blessings will be showering on you. You will go through fire before you become what you want to become."
David however lamented that he misses being the old 'Antwi Ne Antwi' but "the hand of God is no more in the name Antwi Ne Antwi," so a reunion will be impossible.
Asked whether he felt he was a sinner during his days with the group, he stressed that, "doing circular does not mean you are a sinner, doing gospel does not justify that you are a good person or Christian" and that it depends on the message the song carries.
Aside from being a minister of the word at the Jesus Generation Ministry in Accra, David said he will be releasing a gospel album soon but will precede it with a motivational song, Victory For Ghana, to inspire Ghanaians.
He has also set his sight on helping his brother repent to join him to do God's work.
David joins the likes of Hiplife musician Lord Kenya and Hi-life musician Ofori Amponsah who have publicly declared that they have given their lives to Christ.7th on the Top 10 Ghanaian Music Groups Of All Time
 PRAYE
Before we continue, let's try and explain the meaning of their name, 'Praye' which is translated from Akan to English as 'broom'. Broom is a true symbol of unity. But one may ask what happened to that unity between these artistes?
Without any doubt, Praye thrilled Ghanaians in the '90s and 2000s and was later named winner of the Nescafe Africa Revelation, Ghana Edition in 2004.
The trio continued dropping hits music until Cartel Big Jay and Eugene announced that their partner, Praye Tintin had left their team.
A few years later, Eugene, one of the remaining two got married to an actress by the name of Beverly Afaglo. After Eugene's marriage to the actress, their group did not last a year before it collapsed.
However, around 2017, two members of the group decided to resurrect their team but Eugene refused and according to Praye Tintin in an interview, Eugene's refusal to rejoin the group is because of his wife's influence.
However, around 2017, two members of the group decided to resurrect their team but Eugene refused and according to Praye Tintin in an interview, Eugene's refusal to rejoin the group is because of his wife's influence. 6th on the Top 10 Ghanaian Music Groups Of All Time
 BRADEZ
A fast-spitting, tongue-twisting rap duo of blood brothers, Kunta Kinta and Flowking Stone. With the support of their big brother, Okyeame Kwame who featured every now and then on their songs and vise-versa, they stamped their footprints on the Ghanaian hip-hop scene.
Over the years, the duo participated in and won several rap competitions which have enabled them to build the much-needed confidence for the job. It is somewhat challenging to define their kind of music but Bradez calls themselves rappers with deep poetic lyrics. Their great writing ability makes them synchronize their music with rhythms that best bring their lyrics to light. They employ various forms of African melodies and tunes.
They are great dancers in addition to their rapping skills. Versatile musicians who have mastered the art of rap, singing, showmanship, keyboard planning and thereby dedicated to releasing quality music to inspire and promote joy and happiness in their cherished listeners. They are thereby referred to as one of the 'Most Talented Rappers in Africa'.
Coupled with multiple nominations, Bradez has won the Ghana Music Award 'Most Popular Song of the Year' (2009 with Simple) and Museke Online Award for 'West African Song of the Year' (2009 with Simple ).
To this day they seem not likely around after one half of them kunta kinta suffered a stroke and had to take a break from music. Flowking stone embarked on a successful solo career where he churned out hits like fire bon dem, go low, and others before reuniting with his brother kunta on the return of kunta kinta after kunta recovered. The song explained the absence of kunta as they both delivered a story telling rap alongside music duo Emery.
That was the last they was heard of. Kunta struggled to make an impact as a solo artiste but still out there making moves whiles Flowking stone continues his journey. They both haven't come out to clarify that Bradez is done so we pretty much believe they are still around. 5th on the Top 10 Ghanaian Music Groups Of All Time.
 4X4
4×4 is a Ghanaian hip hop musical group formed in 2000 by Captain Planet (Sylvanus Dodji Jeoffrey) and Coded, formerly Abortion (Russell Edem Avornyo) with the help of Ronnie Coches and Bright Bling Sparkles (Buk Bak). They are reputed to have brought crunk to Ghana. In 2007, Captain Planet and Abortion were joined by a new artist named Fresh Prince (Prince Tamakloe).
Jeoffry and Avornyo were discovered by Buk Bak as participants in the Kiddafest TV program showcasing young musical talent. The name 4×4 reflects the four people who led to the creation of the group (Ronnie, Bright, Abortion, and Captain Planet). The duo released their debut album Siklitele under Buk Bak in 2003. In 2009 4X4 Featured Prince Tamkole(Fresh Prince) in a record call hot girls .com..later that year he was admitted to that group
4×4 released their second album Contestant No. 1 in 2007, with the single 'HotGirls.com' featuring a new artist, Fresh Prince (Prince Tamakloe). The song is reputed to have introduced crunk to Ghanaian culture,[3] and earned the group a Ghana Music Award nomination in 2008. "HotGirls.com" was a success,[citation needed] and Fresh Prince eventually joined the band.
In 2009, 4×4 released another album World Trade Center.[4] which went platinum. The title song went to number one on the singles chart in Ghana and is the first Ghanaian song to make the Urban Charts in Africa The single "Waist and Power" has also received over 600,000 hits on YouTube.
Captain Planet claims to have pioneered Ghanaian vernacular rap, using Akuapem Twi rap, Ga, Ewe, and Pidgin English. Abortion contributes a ragga or dancehall style, which fuses singjaying and deejaying with Captain Planet's rapping to create an innovative form of hiplife. The group was and continues to be mentored by Ronnie Coches and Bright Bling Sparkles (Buk Bak).
Ghanaians last heard of this group back in 2014 when they dropped their banger, "Dance" featuring Davido and since then, not even jingle has been dropped by them, they have been individually releasing songs yet they have denied all claims that their group is dead.
Per our observations about 4×4, the group after the release of the track in 2014, that same year Captain Planet got married to his wife, Uche Ofodile.
Could Captain Planet's marriage to Uche be the reason behind their inactiveness? Let's try to figure it out here, A few days ago Captain Planet disclosed that as a man you need to listen to your wife's advise because he, (Captain Planet) was once told by his wife to stay away from friends. Now think about this. 4th on the Top 10 Ghanaian Music Groups Of All Time
 AKYEAME
Akyeame is made up of Okyeame Quame (Quame Nsiah Appau) and Okyeame Quophi (Daniel Quophi Amoateng). They are both solo artistes now. Quame was a DJ at Fox FM, 97.9 and Quophi at Luv FM, 99.5 (both in Kumasi) during a hiatus when they concentrated on other careers than music. Okyeame Quophi is now producing other artists and making music videos through his Emklan entertainment company while Okyeame Quame went on to establish himself as one of the greats of Ghana music as well as a millionaire businessman.
Okyeame Quophi is one half of the famous hiplife dynamic duo, Akyeame (with Okyeame Kwame). He is also known as the Track Quilla. His real name is Daniel Quophi Amoateng and was born in Kumasi to Mr. Daniel Quophi Amoateng and the late Mad. Harriet Quayson. He is married to TV star Stacy Amoateng (Music Music fame), and the two have a child while running EMKLAN entertainment.
Kofi Amoateng went to Methodist Secondary School in Kumasi met Kwame Nsiah Appau in 1990 while studying after-hours at the Kumasi Polytechnic. They started rapping at street battles and anywhere they could show their talent. Okyeame Quophi was a writer and had written a storybook called 'Rings don't marry.
They decided to name themselves Akyeame by taking something from the palace. Akyeame means linguists – as rap linguists – they were going to be a link between the king and his people and interpret ideas to the people through music.
Kofi became Okyeame Quophi, and Kwame became Okyeame Kwame. They looked for producers and met Andrew Opoku Amankwah (Easylink) who was a record executive from London. He helped them record Brebre Obaahemaa in 1997. They were produced by Mark Okraku Mantey. The title track became a hit and Akyeame had arrived.
In 1999, they released Nkonsonkonson which had the hit track called Mesan aba featuring Yoggi Doggi and Nana Quame. They went on to record the Nyansapo, Ntoaso, and Apam Foforo albums before splitting in 2004.
During their times together, Okyeame Quophi was a radio presenter for Luv FM in Kumasi, a sister station of Accra's Joy FM. While he was in the US at the turn of the millenium, he studied sound engineering and videography. He eventually left Luv FM to work for a rival station in Kumasi called Fox FM.
They are famous for their hit, Mesan aba, which was the first hiplife song to win a major Ghana music award. They are two of the most respected rappers in Ghana.
Some of their popular songs include Bra yen tina, Adonko, Sankofa, Ene yebeda okyena, Brebre, Sick with love, Obanyansafo, Damirifa due, Di asa, Asa a aba so, All I got, Akuaba (remix with Kojo Antwi), etc.
Yes, the duo who stirred the hiplife scene in 1999 with their hit tracks Mesan Aba, Obi Yere Ye Obi Mpena?, and have been responsible for more recent hits like? Menko Medo Went their separate ways.
Okyeame Quophi revealed that it wasn't anybody's business, especially the media whether Akyeame was together or no more. He didn't want all that media hype that comes with these things with people assuming the worst.
But what could have happened to cause the break-up of such a successful partnership On the part of Quophi it was nothing disastrous. We got together to form Akyeame to make records and contribute what we can to hiplife and from the look of it we seem to have done that. It's time to try something different.
Again, there was the problem of different interests. Quame wanted to go solo and I wanted something else. There was a problem marrying them together so we sat down and decided that a separation was the answer. 3rd on the Top 10 Ghanaian Music Groups Of All Time
R2BEES
R2Bees is a Ghanaian hip-hop and hiplife duo from Tema made up of Faisal Hakeem (Paedae da Pralem/Omar Sterling) and Rashid Mugeez (Mugeez). They were nominated at the 2013 BET Awards and on March 2019, the duo released their third studio album Site 15.
Both were born and raised in Tema, east of the country's capital city – Accra in Ghana, West Africa. Paedae is the CEO and leader of the group, whilst Mugeez is the lead vocalist. The two cousins, who have been together their whole life, lived in the same house and also attended the same primary, junior and senior secondary school in Tema. Beginning their career early, they started off representing their school in rap competitions as well as inter-school music contests. This led them to participate in the popular radio competition Kasahare, which they won most of and also performed at most shows; gaining them more buzz under their stage name at that time.R2bees are also recognized in the Ghanaian music industry as legends because of their major outstanding achievements – Camp Yard
R2BEES released their first single in August 2008 titled 'Yawa Gal', and became an instant hit. They then went on to release 'I Dey Mad', a chart-topper across Ghana. 'I Dey Mad' featured Unda Melodies. The song topped most Ghanaian Radio Music Charts for weeks. In 2010, R2Bees featured one of Nigeria's biggest stars Wande Coal on their track 'Kiss Your Hand', as their third single.
The video was criticized but R2Bees did not come out with an explanation. In 2009, R2Bees released a 17-track album Da Revolution which has already released songs; 'Yawa Girl', I dey Mad', 'T.E.M.A', 'Kiss Your Hand' with new songs; 'Radio', 'One more Chance' and 'Africa' with production from KillBeatz (Joseph Addison) as well as guest appearances from Wande Coal, Sarkodie, Samini, Kwaw Kese and a host of others
On 29 March 2013, R2Bees on released their second studio album, the 'Refuse To Be Broke – Da Revolution II', a place at the Silver Lounge at the Accra Mall. The 19-track album features hits such as 'Ajeii', 'Life (Walaahi)', 'Odo', and 'Bayla Trap'. The album had guest appearances from Wizkid, Sherifa Gunu, Davido, Tinchy Stryder, and Voicemail. The album's production was handled by KillBeatz who produced or co-produced all the tracks on it. After the successful release of their album that year, R2Bees released their first official single for 2014, "Lobi". The highlife influenced song's video was released on 25 September 2014. The single received massive air play since it release.
R2Bees often sing and rap in their native languages Twi and Pidgin. R2bees is one of the top purveyors of Ghanaian hip pop subgenre hiplife, which mixes rap with sounds of hilife (African pop music) and reggae. In 2012, R2Bees was featured in Forbes' list of Top 13 African Celebrities to watch in 2013. R2Bees have had the privilege of performing on the same stage with international musicians such as American R&BÂ singers Mario and J Holiday. 2nd on the Top 10 Ghanaian Music Groups Of All Time
 VIP/VVIP
VVIP, formerly known as VIP (Vision In Progress) is a Ghanaian Hiplife music group made up of Zeal, formerly known as Lazzy (Abdul Hamid Ibrahim), Prodigal (Joseph Nana Ofori) and Reggie Rockstone (Reginald Ossei) from Nima a suburb in Accra, Ghana.
The founder of this group is actually Friction (Musah Haruna) who formed this group with a friend of his who later had to leave the group for the U.S. to finish his education. So Friction proposed the idea to four people (Promzy, Lazzy, Prodigal, Bone-later left the group) and before they knew it, the five of them were performing at ghetto parties, clubs, street festivals, etc.
Friction's dog, Chicago, was also an official member of the group. You could hear the dog growling at the end of their tracks from the late 1990s. Eventually, Chicago died
In 1997, VIP presented at a street carnival. It was then that a Ghanaian television presenter, Blakofe (aka Akua Manfo), and a radio presenter called Michael Smith discovered the group. Blakofe became their manager, and Michael Smith gave them a contract by the name, Precise Music. In 1998, they released their first album, Bibi Baa O, they were famous all over Accra. They became the most popular Hiplife group in Ghana.
In 2000, they released their second album, Ye De Aba, which was more successful than their first album. After the second album, Friction felt that it was his time to work as an individual artist and quit the group. The group now had three members (Promzy, Prodigal, and Lazzy) and released a third album in 2001 called Lumbe Lumbe Lumbe with the smashing hit "Daben na Odo Beba". However, the hiplife group conquered the Ghana music charts with their 2003 album Ahomka Womu; their single also named "Ahomka Womu" was number one on the Ghanaian charts for over 20 weeks.
VIP won five awards at the Ghana Music Awards from the hit single and the group gained international exposure after this success. Since then, the group has been touring worldwide. They are now among the most famous artists in Ghana. Promzy then later left the group to work as a solo artist but according to him, he says he did not break out of the group.
Following the exit of Promzy, Reggie Rockstone, known as the godfather of Ghanaian rap who back in the mid 90's christened the new genre Hiplife, joined the group. The new group's name metamorphosed to VVIP and they have since produced smash singles like "Selfie", "Skolom" and "Dogoyaro" and many more.
To pass on the legacy they have recruited young talented singer Miyaki to the group sparking speculations of a future generation of the group. Of course, legends never die. They live on and Miyaki may someday continue the legacy.
VIP has launched their 110-minute documentary, Home Grown: Hiplife in Ghana; produced and directed by the American independent filmmaker, Eli Jacobs-Fantauzzi. Some artists present at the launching were Reggie Rockstone, Hashim, Tinny, Sidney, Tic Tac, Mzbel, Rab Bakari, Faze of Nigeria, and other artists from Africa and the Caribbean. And to celebrate the release of Home Grown, BDNP (Boogie Down Nima Productions) is set to travel a worldwide release tour of the film in several countries including Brazil, the UK, India, South Africa, Nigeria, Canada, Italy, Norway, Jamaica, and the United States. 1st on the Top 10 Ghanaian Music Groups Of All Time.