Noella Wiyaala (known under the stage name Wiyaala) is a Ghanaian Afro-pop singer-songwriter who sings in her native Sissala and Waale dialects and English, often combining all three languages within her songs. With her single "Make Me Dance" and her androgynous look, she has become well-known. She began a solo career in 2013 with the smash tune "Rock My Body," which earned her two honours at the 2014 first edition of the All Africa Music Awards: Most Promising Artiste in Africa and Revelation of The African Continent. In efforts against child marriage, child poverty, health, and sanitation, Wiyaala collaborates with UNICEF Ghana and Ghana's Ministry of Gender, Children, and Social Protection.
Noella Wiyaala was born as one of four sisters in Wa, Upper West Ghana, and grew up in Funsi and Tumu. Her mother, a choir singer in the local church, taught her to sing when she was five years old, and she has been performing since then. In her native Sisaala language, her surname, which she chose as a stage name, means "doer." She was a midfielder in football during her late teenage years. She went to Tumu's Kansec Secondary School and then Kanton Secondary High, where she had a reputation as a tomboy who played football and was in high demand as a dancer and entertainer in school shows. She also took an art and design course at Takoradi Polytechnic.
Wiyaala has been an artist since she was a child in Ghana's Upper West Region, receiving her first salary as a performer in a local bar in Tamale. Wiyaala's musical career began in earnest when she graduated from Kansec Secondary High School and joined the local Wa music scene, which was centered around Echo Soundz Recording Studios. She sang at local events and worked as a session vocalist for artists in the Upper West Region, generally for free. At Echo Soundz Studios in Wa, Upper West Ghana, she recorded her first album "Tuma" ("Work") in the Sissala language in 2009. "Dannu" and "Dirik…" quickly became local hits.
She travelled to Accra to audition for Ghana's own "Stars of the Future" with the hopes of establishing a national career. She made it to the finals for the third time in 2011, receiving two Golden Moments prizes. As part of the Ghanaian band Black N Peach won the 2012 Vodafone ICONS Mixed Edition contest sponsored by fellow Ghanaian DJ "Benny Blanco," singing Tina Turner's "Simply The Best."
After only one hit ("Wonkoa"), she quit the Black N Peach band in April 2013 to pursue a solo career with Djimba World Records. Her first single, "Make Me Dance," featured Ghana's first ever underwater sequences in a music video, and was swiftly followed by the single "Rock My Body," which became a hit and earned her two wins at the 2014 All Africa Music Awards.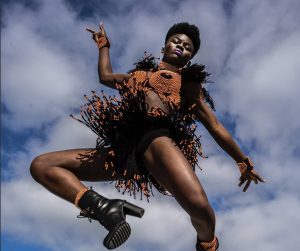 Wiyaala's "official" first album, "Wiyaala," was released in November 2014 and was nominated for album of the year at the Vodafone Ghana Music Awards 2015 and the All Africa Music Awards 2015. Wiyaala is a PepsiCo brand ambassador in West Africa, working alongside Nigerian singer Tiwa Savage to promote Pepsi throughout Ghana as the company seeks to expand its soft drink market share. Since 2014, she has also served as the Ghanaian ambassador for Converse All-Stars.
Wiyaala has spoken out against the male-dominated culture and polygyny prevalent in some African countries, as well as for women's rights and the prevention of family violence in her home country of Ghana. Her Sisaala song "Tinambayai" has been interpreted as a protest against women's exploitation in Africa. Wiyaala appeared on the BBC to discuss early child marriage and expressed sympathy for feminism as a means of encouraging young girls to complete their education so that they can make their own life choices. She also declared that her success would serve as an example to her community that there was a future for young women beyond early forced marriage.
Bitch feminist magazine has named "Make Me Dance" as one of the top feminist songs of the 2013 winter season. Wiyaala has also collaborated on a number of projects with Ghana's Ministry of Gender, Children and Social Protection and UNICEF to help defend children's rights and address public health issues.
Wiyaala sings in both English and Sisaala, her native language. She composes her own music. Her distinctive timbre and forceful and powerful voice have gained her recognition. As role models and inspiration, Madonna, Michael Jackson, Whitney Houston, and Tina Turner were given. In elementary school, the guys used to call her "man-woman," and she now cultivates an androgynous image of herself, for which she has been compared to Grace Jones. Angelique Kidjo, Miriam Makeba, and Brenda Fassie are among the African artists she admires. Sherifa Gunu was the inspiration for her song "Africa."
Her music has been described as Afro-pop or Afro-rock with elements of tribal folk music, while her most recent track, "Rock My Body," which she released in June 2013 alongside Ghanaian reggae musician Jupitar, leans more towards reggae and dancehall. Nora Dean and The Soul Sisters' song "Wreck A Buddy" from 1969 served as an inspiration for Wiyaala. She also performed at the 2014 Stanbic Ghana Jazz Festival's opening ceremony.
The single "Go Go Black Stars…Goal!" was released in April 2014 on the Djimba World Records label and incorporates tribal percussion and stadium choruses in English and Ghanaian languages. For the 2014 World Cup, the song was chosen as the unofficial hymn of Ghana's national football team. Wiyaala was nominated for the Ghana Sports Excellence Awards 2014 as Best Sporting Artist.
Wiyaala took home two of the coveted 23.9-carat gold-plated trophies for "The Most Promising Artist in Africa" and "The Revelation of the African Continent" at the maiden edition of the All Africa Music Awards, which took place on December 27, 2014 in Lagos. She has been praised as a youth icon and an inspiration for young Ghanaians to strive for success by Vodafone for her achievements.
Wiyaala was nominated for six Vodafone Ghana Music Awards in 2015, winning Best Songwriter and Best Female Vocalist. Wiyaala won best video for "Africa," directed by Stanley Ajjetey, at the second edition of the All Africa Music Awards 2015. AJ Nelson's "Power to the People" and Dark Suburb's "Mama" were both featured in 2015.
Wiyaala made her television acting debut in the hit Viasat 1 comedy series MultiKoloured in late 2013. Wiyaala made her cinematic debut in February 2016 in the Ghanaian feature film "No Man's Land," for which she was nominated for the Golden Discovery 2016 award at the Golden Movie Awards.
With a garment she sketched and designed herself, Wiyaala was nominated for "Female Personality of the Year" at the 2014 Ghana Fashion Icon Awards. She creates her own stage costumes and jewelry to highlight the culture of the people in her hometown. She's also been recognized for her style, winning the Glitz 2015 Style Awards' Best Individual Style Award.
https://www.instagram.com/p/CYOo23YsUGb/?utm_source=ig_web_copy_link